OneDek™: A Revolutionary Roof System from All Weather Insulated Panels
November 7, 2017
Many large low-slope commercial-industrial and cold storage buildings are built using traditional steel roof deck assemblies. This type of roof is comprised of a roll-formed steel substrate under multiple layers of rigid foam insulation which is then covered with a single ply membrane roof sheet. To Bill Lowery, the president of All Weather Insulated Panels, roofs constructed in this traditional manner are obsolete.
"It's time for the North American construction industry to undergo a paradigm shift," Lowery said. "I see the way these roofs are installed and realized that there are superior cost effective solutions available simply by applying newer composite technologies."
With that in mind Lowery developed OneDek™ as a revolutionary insulated panel composite for "low-slope" or flat roof applications, making them perfect for large commercial-industrial and cold storage projects. OneDek™, Lowery said, will save time and labor costs during construction while providing superior properties, including resistance to deflection, diaphragm shear, fire and higher R values per inch compared with most insulation boards available on the market.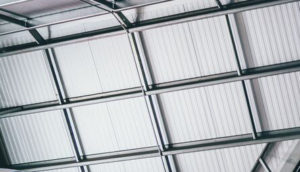 By producing the insulation and the steel substrate at the factory, OneDek™ panels eliminate the need to add insulation on the job site. This time-consuming step has installers manually staggering the insulation board layers and then securing them with thousands of long length mechanical fasteners to the steel deck substrate.
With the use of a "vacuum lifter," OneDek™ panels are easily set in place over roof support steel and engaged via roll-formed tongue-and-groove joinery. Securing the panels to joists or purlins requires far fewer fasteners and takes less time.
The composite nature of the OneDek™ assembly allows for longer spans between supports and, unlike an insulation board substrate, OneDek™ panels are highly resistant to damage from foot traffic during and after construction. The ability to meet diaphragm shear requirements makes OneDek™ unique as a composite utilizing steel facings and a polyisocyanurate foam core. But the benefits of OneDek™ don't stop there.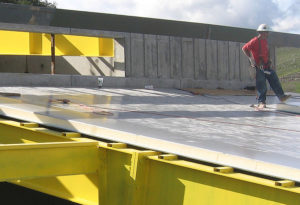 These panels can be produced in thickness ranging from 2 to 6 inches, the latter carrying an R value of 50. The exterior coated steel provides a perfect substrate for either mechanically fastened or adhered white TPO and PVC membrane waterproofing. The interior steel facing of OneDek™ comes with a white factory-painted finish, which is easy to wash and highly reflective, thereby reducing lighting requirements. "Just another benefit that comes with OneDek™," said Lowery. "Fewer light fixtures alone provide only a portion of the savings for a 150,000-square-foot project, but then add that to all of the other advantages, including installation time and superior overall performance, OneDek™ really does makes a difference."
Lowery is so confident about the integrity of the OneDek™ roof assembly that AWIP offers an industry exclusive 20-year, top-to-bottom "Roof System Weathertight Warranty." By top to bottom, this includes the membrane roof. For a building owner, that is a big deal.
"In the U.S. construction industry, we have to lead the horse to water and then entice it to drink," said Lowery. "When it comes to OneDek™, they'll be happy they did. It's economical, faster and better."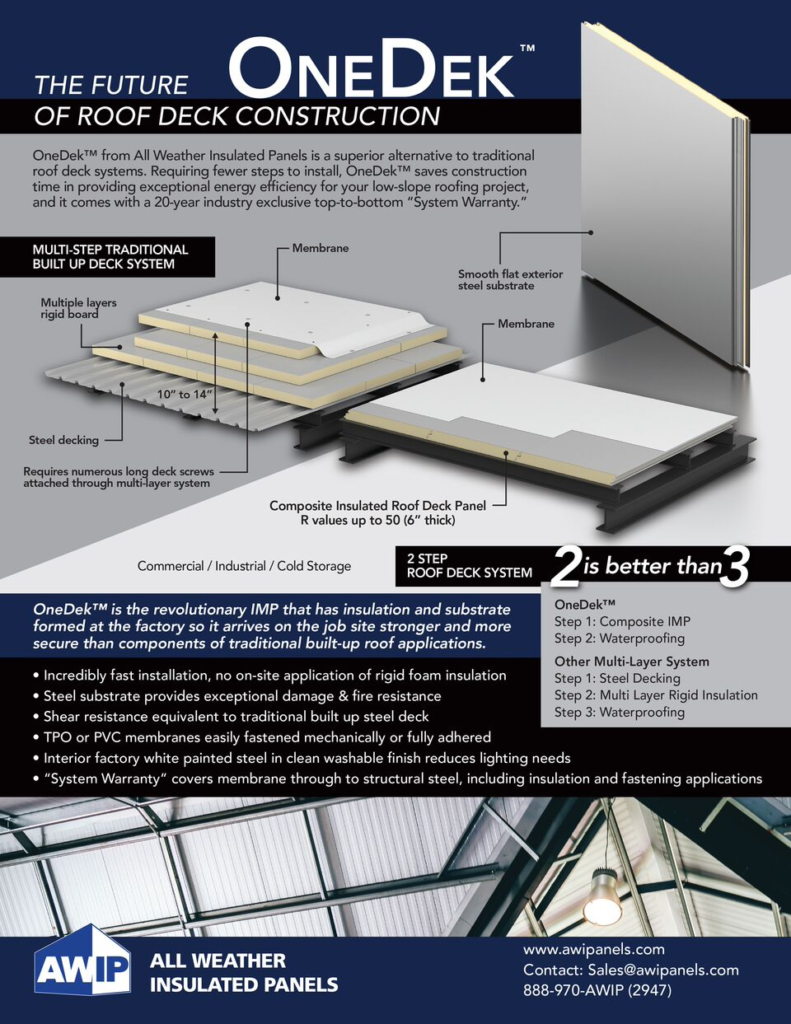 About All Weather Insulated Panels
Headquartered in the San Francisco Bay Area, All Weather Insulated Panels (AWIP) has two state-of-the-art continuous line manufacturing facilities Vacaville, California, and Little Rock, Arkansas.
Founded in 2004 by William Lowery, AWIP is an innovator in the design, construction and advancement of insulated metal panels. It is strategically positioned to meet the growing energy, environmental and economic challenges facing the North American building industry.
AWIP provides its customers with a broad line of insulated wall and roof panels and a full range of complementary trims, accessories and engineering services. For more information, visit www.awipanels.com.