AWIP Celebrates 5-Year Anniversary Meeting Florida's Strict Building Codes
March 4, 2017
In 1992, Hurricane Andrew swept over Florida and caused more than $16 billion in total insured damages. Consequently, over the ensuing two decades the state of Florida has legislated stringent building codes to withstand potential storm damage.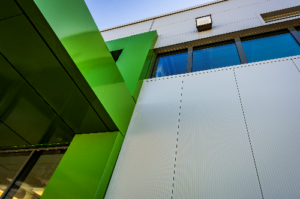 These building standards are commonly considered the most demanding in the country, understandable in light that Andrew's estimated wind speeds reached as high as 165 mph.
All Weather Insulated Panels, which manufactures composite insulated metal panels (IMPs), have been approved for projects in Florida since January 2012. From Florida to Alaska, wall and roof panels with composite foam insulation from AWIP not only help buildings achieve peak energy efficiency, they make buildings stronger and safer.
Metal roofs using AWIP's Standing Seam SR2 (right), HR5 or HR2 roof panels all have been proven to meet Florida's building codes since January 2012. Roofs with these types of panels have continuous sheets of steel that run the entire span of a roof, from the eave to the ridgeline.
In areas of high winds, metal roofs with these products are more resistant to damage. Unlike more traditional shingle or tile roofs, which consist of a plethora of seams where wind can penetrate the roofing material causing damage, metal roofs have fewer exposed edges.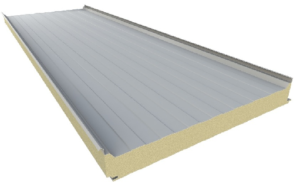 In areas where tornado and hurricane-force winds are a possibility, it's better to use a metal panel system for a building's roof and walls. Wall models such as our FL40 or ST40 bring a sleek, architectural look as well as added safety: Metal buildings have the highest strength to weight ratio of any roofing material available.
Founded in 2004, AWIP strives to provide solutions to projects that require the perfect combination of energy efficiency, creative versatility and ease of construction. AWIP panels feature Solstice® Liquid Blowing Agent in closed cell polyisocyanurate insulation and self-aligning, double interlocking tongue-and-groove joints with concealed fasteners that create an air-and-water-tight seal to stabilize interior environments.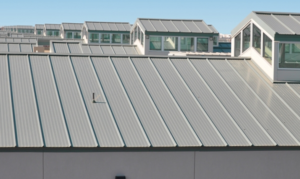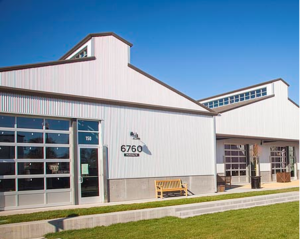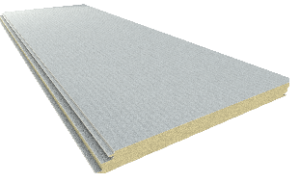 Government and state building codes will demand improved energy efficiency, making All Weather Insulated Panels the ideal choice to deliver the superior thermal capabilities and building performance that eco-conscious builders, designers and owners need.
For any questions, please reach out to marketing@awipanels.com, or visit our website at https://awipanels.com
Facebook – https://www.facebook.com/allweatherpanels/
Twitter – https://twitter.com/awipanels
Linkedin – https://www.linkedin/company/all-weather-insulated-panels
YouTube – https://www.youtube.com/user/AWIPanels
Pinterest – https://www.pinterest.com/AllWIPanels/