How We Made the Cover of GB&D Magazine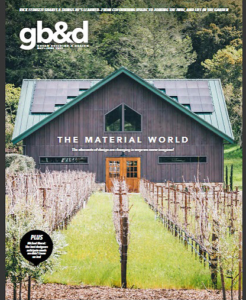 We at All Weather Insulated Panels believe that getting the message out about the benefits of insulated metal panels resides at the core of our mission. As President Bill Lowery has said, we are on the verge of a new era in building in this country, and insulated metal panels (IMPs) are going to play a major role in that transformation.
As a marketing strategist, my job at AWIP is to find unique ways to promote our products, our company and our employees. When I came aboard, AWIP already had a sterling reputation in the industry as seen in our prominent presence in industry trade publications.
It became clear in working with Marketing Director Chris Marchetti that expanding that presence into new avenues would serve to increase awareness of IMPs and AWIP. And that's where we came to realize the power of editorial projects that show what our products can do. Perhaps the best example of this can be found on the cover of the May-June issue of Green Building & Design.
This publication prides itself as "a trade magazine that connects and inspires green building professionals by partnering with those at the forefront of sustainable design, development, planning, and policy. As a trusted source for the world's top architects, builders, and developers, gb&d showcases projects, products, and trends with sustainability and social responsibility as their top priority."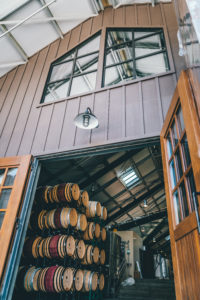 That's why the May-June story in GB&D presents AWIP products in the best light. The Venge Vineyards in Calistoga, CA used our DM40 wall panels and HR3 roof panels to their best use. Note that the DM40 wall panels take the board-and-batten post-application treatment well, giving this high-tech, energy efficient building the look of an aged wooden barn.
Also, note how our HR3 roof panels enable easy application of solar panels and daylighting systems that ensure the building's energy reliance while giving the interior of the building enough natural light without any loss or leaking from its "thermal envelope."
Chris Marchetti believed drone photography, courtesy of Ryan Hormel, was the best choice for this project. The results proved so stunning to the editors of GB&D that they enlarged amount of pages scheduled for the feature story and planted Venge Vineyards on its cover.
All in all, it's quite an accomplishment, one that emphasizes how IMPS from AWIP are the perfect solution for projects calling for energy efficiency, low construction costs and design flexibility.
Like we always say, AWIP provides products that are "A Better Way To Build." To see more of our work for wineries and breweries, please click on this link in our Gallery.
For any questions, please reach out to sales@www.awipanels.com, or visit our website at https://www.awipanels.com
Facebook – https://www.facebook.com/allweatherpanels/
Twitter – https://twitter.com/awipanels
Linkedin – https://www.linkedin/company/all-weather-insulated-panels
YouTube – https://www.youtube.com/user/AWIPanels
Pinterest – https://www.pinterest.com/AllWIPanels/