Ultimate Thermal Security: NewCold Tacoma Features AWIP's DM40 Panels
Cold storage buildings are all about thermal security, and the leaders in this unique industry have come to realize that achieving that critical state means calling on products from All Weather Insulated Panels (AWIP).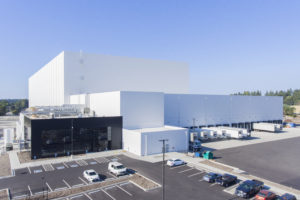 In simplest terms, buildings of this nature absolutely have to give the owner the confidence in knowing that the internal temperature, humidity and vapor levels are satisfactory and manageable to maximize efficient use of energy and thus maintain the perishable products contained therein.
That's why Fisher Construction Group of Burlington, WA relied on the DM40 insulated wall panel from AWIP for erecting NewCold Tacoma, a state-of-the-art storage facility that opened in 2018 with a total volume of approximately 25 million cubic feet of capacity – roughly comparable to the volume of the Seattle Seahawks' CenturyLink Field.
Based in The Netherlands, NewCold is a leader in developing and operating highly automated cold stores whose structures, according to the company website, "incorporate world-class and energy efficient systems, making it stand out from conventional cold storage companies."
Standing on a 242,000 footprint and measuring 140 feet high, NewCold Tacoma has 25 million cubic feet of storage capacity and is the firm's first cold storage facility in the U.S. with interior temperatures maintained at 5 degrees above zero.
With NewCold hiring Fisher Construction as general contractor, SubZero Constructors of Santa Margarita, CA installed the panels.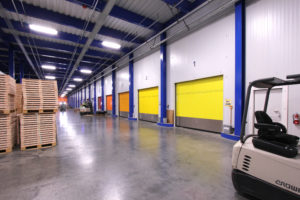 Referred to as a 'dark high-bay', this stunning building operates within a strictly controlled system where oxygen is reduced to 16.5 percent saturation by means of a nitrogen exchange process. This eliminates the possibility of fire and provides several advantages, among them higher storage height no longer limited by the high cost of in-rack fire protection systems.
"The All Weather insulated metal panels played a significant role in the construction of NewCold," said William, Langley, AIA, principal architect for Fisher Construction Group. "The interlocking panels provided the R-value required and formed the critical vapor barrier needed to lock moisture out. The oxygen reduction method used in NewCold is possible because of the tight thermal envelope created by the walls, ceiling and floor, thereby making the freezer fire-proof also."
The logistics of bringing this structure online had AWIP shipping from its Vacaville factory about 3,800 DM40 panels of varying lengths, maxing out to more than 300,000 square feet of 4-inch thick (R 32) exterior and interior wall panels, all made to withst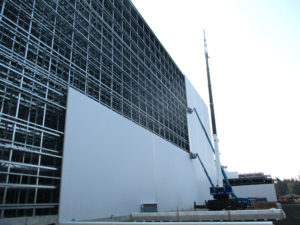 and an extreme environment stabilized at 5 degrees and with a lower oxygen content.
NewCold is currently close to bringing a second cold storage structure in Burley, Idaho, which again relied on AWIP's DM40 panels from Vacaville. The project is expected to begin operations later this year.
All About All Weather Insulated Panels
All Weather Insulated Panels (AWIP) has two state-of-the-art continuous line manufacturing facilities in Vacaville, California, and Little Rock, Arkansas.
Inquiries may be directed to mailto:sales@awipanels.com, or please call 888-970 – AWIP (2947).