AWIP Honored With Three Construction Industry Marketing Awards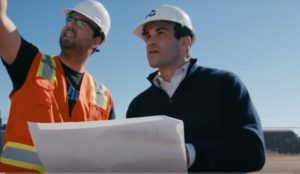 All Weather Insulated Panels came away with three prestigious advertising honors, including a first-place "Superstar" award, in the annual Construction Marketing STAR™ awards. The highly esteemed STAR™ marketing awards were the first-ever entered by AWIP.
A Better Way To Build Video
The STAR™ awards honor excellence among construction industry professionals across a broad range of functional marketing disciplines. Dozens of companies, ranging from large – Bosch, Huttig, Ditch Witch – to small, including AWIP, vie for honors among sixteen categories.
AWIP came away with a first-place Superstar award for its print ad, Thermal Security, which ran in several trade publications. Vice President Conor Lowery called it our best print ad yet. It appeared in Metal Construction News.
Our company video entitled "A Better Way to Build," which can be found on the homepage of awipanels.com and our YouTube channel, received a Star award. Finally, another Star award came in the Publicity category, this for our cover story in the May-June 2016 issue of Green Build & Design magazine.
"These honors mark the aggressive effort we made starting in 2016 to promote the benefits of insulated metal panels," said Marketing Director Christopher Marchetti. "We feel our products will lead to better buildings, greater energy efficiency and cost savings. And our efforts here show the impact we have had in driving the AWIP story across the industry."
Major STAR™ award categories include advertising, brand identity, collateral, internet, direct, publicity, packaging, merchandising, trade shows and events, promotions, video, photography, employee communications, integrated campaigns and the Construction
Marketer of the Year, which can be a company, brand or individual.
"Innovative thinking that led to better IMPs also leads to better ways to garner attention," said Marketing Strategist Ted Johnson. "Better products are easier to market. It helps that Chris has been able to line up some excellent graphic designers and videographers. Together, we feel we came up with compelling ads and effective marketing campaigns."
Aside from Chris and Ted in the marketing department, many thanks go to the Affinity Creative for their help in making the video, as well as graphic artists William Sanford and Jon Carriveau for their contributions. A complete list of all STAR™ winners can be found here.
We look forward to 2018 bringing new ways to make the construction world more good news about AWIP
.