SR2 Earns Top 6 Ranking in MCN Readers' Poll
The
SR2 roof panel
by All Weather Insulated Panels ranked at No. 6 in the 2017 Readers' Choice Awards by Metal Construction News, a leading trade publication known as the "original news magazine of the metal construction industry and is the premier source for news, products and strategies."
For a product to be considered for the Readers' Choice Awards, it must have been featured in editorial coverage between the May 2016 and April 2017 issues of Metal Construction News. The editorial staff tracked the leads generated by each product from its readers and ranked them accordingly.
This year's products, according to MCN Editor Paul Deffenbaugh, were trending "upward," a reference to a growing interest in roof products. That's where the SR2 stood out.
"The
SR2 panel
is very strong yet we use a lighter gauge steel thanks to our unique trapezoidal-designed seam," said AWIP Marketing Strategist Ted Johnson. "Designers and project managers like the SR2 because it brings lower costs and enables fast installation due to our mechanically seamed panels."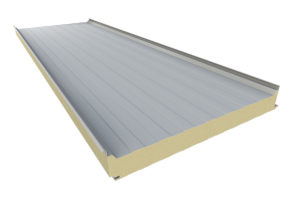 Founded in 2004, AWIP strives to provide solutions to projects that require the perfect combination of energy efficiency, creative versatility and ease of construction. AWIP panels feature self-aligning, double interlocking tongue-and-groove joints with concealed fasteners that create an air-and-water-tight seal to stabilize interior environments.
For any questions, please reach out to sales@www.awipanels.com.
Facebook – https://www.facebook.com/allweatherpanels/
Twitter – https://twitter.com/awipanels
Linkedin – https://www.linkedin/company/all-weather-insulated-panels
YouTube – https://www.youtube.com/user/AWIPanels
Pinterest – https://www.pinterest.com/AllWIPanels/