All Weather Insulated Panels and SIKA – Partnership of Two Industry Leaders for One Exceptional System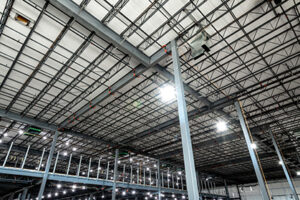 Vacaville, CA  – All Weather Insulated Panels (AWIP) is pleased to announce a partnership with Sika Corporation – Roofing, to expand AWIP's current roofing system capabilities. The joint effort will provide an enhanced membrane offering to the OneDek® Insulated Roof Deck, to include AWIP's OneDek insulated roof panel and Sika's Sarnafil PVC roof membrane.
OneDek Insulated Roof Deck System is a superior alternative to traditional multi-layer, low slope roofing systems. It features just two components to complete the roof, an insulated roof deck panel and membrane. Requiring fewer steps to install saves construction time and provides exceptional energy efficiency for low-slope roofing projects. Incorporating Sika membranes to the OneDek system allows for additional benefits including enhanced performance, increased sustainability impact and a reduction in lead times when installing the total roof system.
"We are thrilled to expand the availability of OneDek to a broader market through this partnership with Sika Sarnafil," said Greg Lusty, VP of Sales at AWIP. "With our third manufacturing facility now operational, we are poised to support the expected growth of this truly revolutionary system for low slope roofing."
The complete OneDek system utilizes an insulated roof deck panel and the Sika Sarnafil PVC membrane for low slope roofs. An RD1 or RD1-M flat insulated roof deck panel creates a single component to encompass the steel deck, insulation, air and vapor barrier and substrate necessary for field application of the membrane.
Today's building projects require the perfect combination of energy efficiency, creative versatility and reduced construction cost. AWIP is strategically positioned to meet the growing energy, environmental and economic challenges facing the building industry.
"This is an exciting new system offering for us," said Bill Bellico, VP of Marketing at Sika Sarnafil. "Forming a partnership with a high-quality company like AWIP to offer the marketplace a new option for installing both your structural deck and roof system with less system components is a great new development for us."
The enhanced offering will provide a full system warranty that covers the insulated roof deck panel as well as 60, 72 or 80 mil Sika Sarnafil membrane.
To learn more about this enhanced offering please visit our website.
About AWIP: All Weather Insulated Panels (AWIP) is an innovator in the design, construction, and advancement of insulated metal wall, roof and deck solutions. They are strategically positioned to meet the growing energy, environmental and economic challenges facing the North American building industry. AWIP's OneDek insulated roof deck is viewed as the industry leader.
About Sika: With over 100 years of experience, Sika is the worldwide innovation and sustainability leader in the development and production of systems and products for commercial and residential construction, as well as the marine, automotive, and renewable energy manufacturing industries. Sika has offices in over 100 countries with over 300 manufacturing facilities and more than 27,000 employees worldwide. With annual sales of 9.5+ billion dollars in 2021, our commitment to quality, innovation, and the environment as well as putting our customer's needs first, encompasses why Sika is the global leader in our industries. For more information about Sika Sarnafil in the U.S., visit usa.sika.com/sarnafil.